Commercial Plumbing Services
As well as having a great reputation among local homeowners, Smartheat also offers commercial plumbing and heating services for businesses. From a small office to the largest factory, our engineers can help ensure your business has a reliable source of heating and water all year round. We can assist you by providing technical support for maintenance, repairs and emergency response. We'll also collaborate closely with you to create a service plan that covers all of your installations.
Greater demand can put pressure on a commercial plumbing system. Whether we are fixing a blocked drain or carrying out maintenance on communal restrooms, our expert plumbers will deliver a quick solution with minimal disruption to your business.
We can also supply and fit new sinks and taps, or full commercial kitchens. Maintenance contracts are also available to make it more affordable to keep your commercial plumbing running reliably.
Heating Your Workplace
With reliable heating, you can create a happy and productive workplace and offer a warm welcome to customers and clients. We can install new heating systems to modernise your premises, or carry out a professional service to ensure your boiler is working safely and efficiently.
Our engineers are Gas Safe certified and can assess your heating system to ensure your work environment is safe for you and your employees. We can also advise you on any industry changes that may affect your business.
To prevent heating problems becoming more serious and more expensive, we can arrange a maintenance contract. As part of this, we will carry out regular inspections of your property's heating, and recommend any preventative work that could help you avoid a costly breakdown or fault in future.
Your Business in Safe Hands
We understand that your business depends on its heating and plumbing systems day in, day out. That's why we offer 24/7 emergency callouts to tackle any faults quickly and efficiently, avoiding expensive downtime for your workplace. Get in touch to discuss the requirements of your business with our expert team.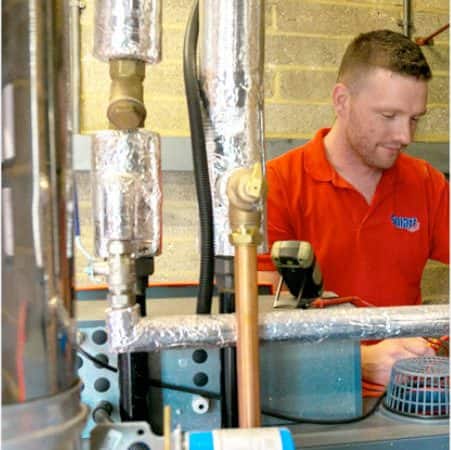 Testimonials
Rated 4.5 out of 5 by customers on Google